State's first private lab to test for COVID looks back at pandemic … and ahead to what's next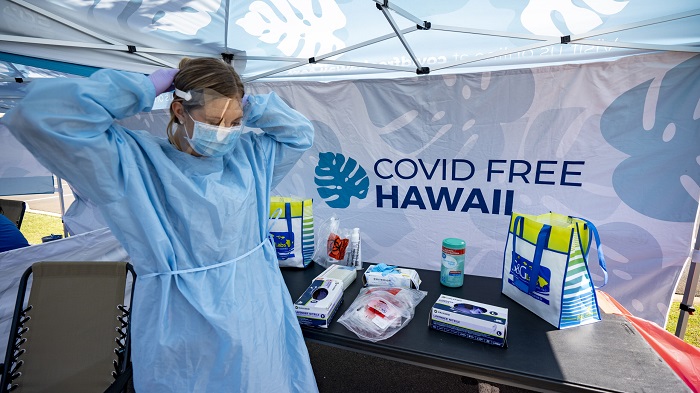 S&G Labs of Hawaii opened its doors in 2015 on the Big Island to do drug testing for rehabilitation facilities.
When March 2020 came and the pandemic hit, S&G founder and CEO Dr. Lynn Welch was faced with a big decision.
"I knew I had the people who could do COVID PCR testing. We had the brains. We just didn't have the necessary pieces to do it," she said."I made a decision to move mountains as fast as we could."
Welch and her staff quickly put the pieces together, air-freighting equipment to its Kona site.
In April, the small laboratory became the first private lab in the state to begin testing for coronavirus ― and one of the first in the nation.
"Being a small company we can still make such a huge impact and a huge difference in our community, and give back to the people of Hawaii," said Crystal Nobriga, S&G Labs of Hawaii's vice president of communications.
At a time when many businesses furloughed employees, S&G hired to meet the demand for a rapid turnaround on test results. It nearly doubled its staff to about 100 employees.
"We grew exponentially and the majority of all those individuals are still employed with us," Welch said.
She's proud of the fact that test results were never delayed.
"When a sample came to us, every time it reported the next day," she said.
S&G does it all, collecting nasal swabs and saliva samples from all over the state, then processing them. The lab has completed more than 66,000 COVID-19 tests and it's adding to that total.
"We're doing production companies that are filming here. We're doing schools and businesses just to keep people safe," Nobriga said.
The lab continues to test for COVID seven days a week, and it's working on the next phase of operations.
"I'm looking to do testing for returning to school," Welch said. "We have some ways to decrease the cost. I'm always looking for how we can make things better."
Article first appeared on Hawaii News Now