Everything You Need to Know About COVID-19 Surveillance Testing at Workplace Sites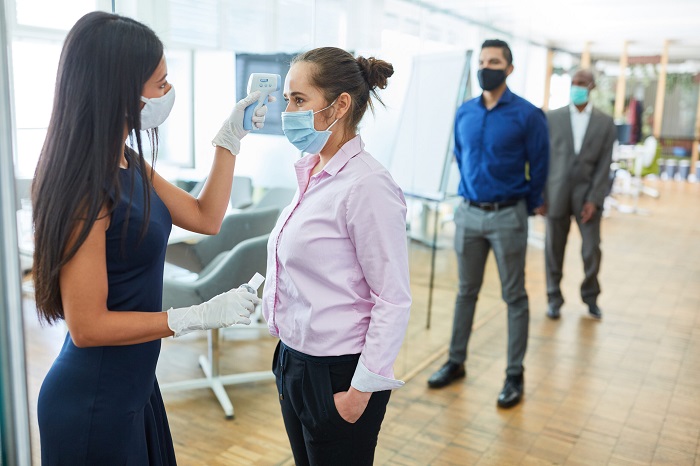 If you're feeling anxious about the upcoming (Emergency Temporary Standard) ETS mandate from OSHA, stop searching online for "COVID-19 surveillance testing at the workplace" and getting lost in articles full of technical jargon.
No worries—we've got all the information you need right here. We'll help you prepare for OSHA's new ETS mandate.
The U.S. Circuit Court was able to get a short-term stay on the ETS, but it's only temporary. However, it gives you more time to prepare a surveillance testing program that will ensure ETS compliance.
We'll start exploring the new mandate now and discuss how, as a healthcare provider, you can prepare for it.
S&G Labs Hawaii: Offering Affordable COVID-19 Surveillance Testing at the Workplace
Here at S&G Labs Hawaii, we serve the Big Island community with high-quality diagnostic testing. At our state-of-the-art clinical laboratory in Kailua-Kona, we're proud to partner with COVID Free Hawaii. We help keep our community safe, in good health, and free of the SARS-CoV-2 virus, otherwise known as COVID-19.
As per the law, our facility has the necessary Clinical Laboratory Improvement Amendments (CLIA) certificate to perform diagnostic testing for SARS-CoV-2.
If you're going to choose mandatory COVID-19 surveillance testing in the workplace, we can help.
Call S&G Labs at (808) 900-7475 today to learn more about our testing services and schedule a consultation.
What Is OSHA's Emergency Temporary Standard (ETS)?
OSHA's Emergency Temporary Standard (ETS) is a new COVID-19 mandate that will help reduce virus transmission between employees. It applies to private employers in the healthcare sector that hire more than 100 employees.
The ETS states that employers must choose between a full vaccination mandate for all employees or requiring COVID-19 surveillance testing every week. The ETS may be on hold, but remember, you'll have only 14 days to meet the requirements once it goes into effect.
ETS and COVID-19 Workplace Guidelines
The ETS has seven requirements that healthcare providers must follow:
1) Create a Detailed COVID-19 Plan
Ask each staff member to disclose their vaccination status
Perform a thorough risk and hazard assessment of your facility
Appoint a safety coordinator who will perform a daily check to ensure compliance in all areas of the ETS
2) Enforce Mandatory Health Screening for Visitors and Develop Safety Protocols
Monitor all visitors when they enter the building
Perform a daily check to ensure clean, sanitized surfaces
Require a health screening for every visitor, including asymptomatic individuals
Enact a mandatory face mask policy
Provide PPE and install barriers where close contacts occur between staff and patients
Refuse entry for symptomatic individuals who appear to be showing signs of COVID-19
3) Perform Employee Health Screenings and Tests
Enforce a daily check and health screening tests for employees and unvaccinated individuals
Notify potentially exposed staff of any confirmed or suspected case of COVID-19
Provide paid leave for employees with a positive test result for the SARS-CoV-2 virus
4) Encourage Vaccinations
Provide paid leave for the time employees spend getting the vaccine
Provide paid leave for employees unable to work due to vaccination side effects
5) Provide Training for Employees
Disclose all relevant information about COVID-19 to the staff, including:
Risk of transmission
Safety policies and testing requirements
Current paid leave and medical protection benefits
6) Inform Employees of Their Rights
Discuss all new employment practices and testing mandates with the staff
Discuss staff rights and protections under the ETS mandate
Discuss where employees can get tested or access community resources (i.e., Medicaid services)
7) Maintain Accurate Records
Monitor and record each time an employee has positive test results for a COVID-19 infection
Notify OSHA of any in-patient hospitalization, death, or severe illness related to a COVID-19 infection
How to Choose a COVID-19 Surveillance Testing Program
As a private employer that must follow the ETS, you have a few decisions to make. First, decide between a vaccine mandate or requiring employees to get tested every week.
If you choose the latter, you'll have to determine what type of COVID-19 test will fit your needs best.
Currently, there are only two FDA-approved diagnostic tests: molecular (PCR) and antigen tests.
PCR Tests
A PCR test, or molecular test, can detect the specific genetic material of coronavirus. It's accurate, even for people with no symptoms. Turnaround time for a PCR test is usually between one and three days, maybe a week if the testing facility is busy.
Most molecular tests only require a quick nasal swab, making them one of the most convenient methods for people to get tested.
Antigen Tests
Antigen testing (rapid testing) can detect the specific protein fragments unique to coronavirus. Unfortunately, this method doesn't have the same test sensitivity as a PCR test.
Are Antibody Tests an Option?
Antibody testing isn't a viable method for identifying an active COVID-19 infection. A positive antibody test result would mean the presence of antibodies in the immune system as a response to COVID-19.
However, if the body has yet to produce those antibodies, a person could get a false negative result.
Where Will the Weekly Testing Occur?
If you're going to require public health surveillance testing every week for your staff, you'll need to decide how. You have three options:
On-site COVID testing for employees
At-home testing kits
Third-part lab services
Using a third-party lab service is the most affordable and hassle-free method for COVID-19 surveillance testing in the workplace. At-home testing kits are convenient, but they're not always reliable or FDA-approved.
On-site testing costs extra time and money, and it takes a lot of effort—plus, you'll have to clear a space to function as a testing site for employees every week.
When you outsource to a lab, you get fast, reliable, and precise testing services. You won't have to worry about sending away samples or paying extra money in fees.
Instead, you'll have a dedicated team of lab technicians taking care of all the work for you every week.
S&G Labs: Providing COVID-19 Surveillance Testing in the Workplace
If you're a private employer who needs COVID-19 surveillance testing in the workplace, we've got you covered here at S&G Labs Hawaii.
Our COVID-19 diagnostic testing services are fast, affordable, and convenient. Call us at S&G Labs today at (808) 900-7475 to get started!